Ohhhh …. Justin Bieber. You have taken over the airwaves, the merchandising, and the hearts of little girls all over the globe. Your presence is definitely felt in my house. (And, I'm not ashamed to say that I'm a fan, too!)
I first became a huge Justin Bieber fan when I saw the movie, Justin Bieber: Never Say Never
. The movie was released into theaters and I was under the impression that it was a one night only event. Piper really wanted to see it. Don was out of town and we had no plans, so we went. I fell in love with this boy … what a great story, charming personality, fabulous family, and brilliant management team. (If you haven't seen the movie – I highly recommend it. If you are an Amazon Prime member, you can stream it free or you can stream it on Netflix.) In fact, we loved the movie so much – we went back to see it again in the theater once we found out that it was actually showing for weeks — Seeing a movie twice in a theater is something we NEVER do!
We've all had Bieber Fever since then … buying the albums, following him on Twitter and Instagram, gobbling up the merchandise … you know, the typical stuff that you do when you have a nearly-tween daughter in your house and a closet Bieber-fan son.
Fast forward to May 1ish, 2012: Justin's tour dates are announced and Houston is on the list. I immediately knew that we wanted to go and didn't even think twice about the ticket cost. (Because I didn't know what it was!) We did know that there would be a pre-sale on May 23 to American Express holders (and I'm not one). The remaining tickets would go on sale – what was left of them – on June 2.
On May 23, it was Awards Day for Avery's class. I had taken a couple of hours off of work and was in his class.  My phone was blowing up from my sweet BFF Erin. As soon as I cleared the school zone (no phones in school zones in TX), I called her back. She's an American Express card holder and had figured out that she could secure 8 tickets using her and her husbands cards together! Praise you, my dear friend! (And, really, isn't that the best of friends?) She had already purchased 4 (2 for her and 2 for another of our bests), and was ready to purchase 4 for us if I wanted. Our seats wouldn't be right next to each other, but we'd be within waving distance. Perfect. Sold. What a friend!!!!
"How much do I owe you?"
"$452″
"OMG! OK … This is the Beatles of their generation, right?" I needed reassurance.
Admitting this might swipe me of my part-time frugal blogger status, I'm afraid. But, we didn't want seats in the stratosphere – we wanted to see the boy dance! And, we all knew that we couldn't afford floor seats … so first level seats we got.
The concert was October 30 and Piper's birthday was October 28, so it was a no-brainer that she was getting these as a gift. Her portion of the ticket cost is what we would have spent on her anyway. The second part of her gift is that she got to take us all with us!
Piper had asked several times about the concert and I always told her that it was just too expensive and we couldn't go. She completely understood and never balked at that excuse, but I knew she really wanted to go … especially since two of her best friends were going as well.
I love (and am shocked) that we were able to keep the tickets a secret from her. It was a sweet surprise when she opened the final gift at her birthday party and realized that she DID have tickets and was getting to go just 2 days later.
Talk about a happy 8 year old girl … downright joyful.
We arrived at the Toyota Center in downtown Houston around 6. The concert was set to begin with Opening Act Carly Rae Jepsen at 7:00 PM, and since she's had a great couple of months with chart-topping songs and lots of radio play – the place was swarming with people. Everyone wanted to see her act as well.
We arrived before our friends and took our time people watching and taking advantage of the Justin Bieber dance and sing-alongs that were happening at the Radio Disney booth. There were photo ops with Justin Bieber cutouts and some giveaways to the lucky folks who could finish the lyrics to songs, etc.
Lots of fans had made homemade signs and were probably seeing if any of the management from Justin's team would allow them the opportunity to go backstage to meet the popstar live-and-in-person!
The music from Radio Disney and other pop stations was blaring … all of their speakers seemed to be pointing at one another. It was loud, so if you are going to a concert in another city … beware. The loud doesn't start when JB takes the stage – it's way before that!
I  noted (and also saw this at the Taylor Swift concert) that the posterboard signs are NOT allowed inside the arena. I'm sure this is so they don't obstruct people's view. [Thank you!] So, don't spend a fortune at Hobby Lobby and work all weekend on it. Unless you just want it for the courtyard experience, you are wasting money.
About this same time, our friends arrived! The kids were so excited to see each other – it had been 30 hours – and couldn't wait to experience this whole event together!
The line that seemed very long when we first walked up had gone down some, but went very quickly. We entered the arena and found our seats. We were in sections 116 and 117, rows 23 and 22 respectively … we were literally across the aisle from one another – spitting distance as we would say in Kentucky.
The seats were perfect. Low enough that we could see the stage without depending solely on the monitors, but high enough that we could get the effect of the "extras" without looking straight up! I'm definitely making a note of where we were … the seats were well worth the money.
Carly Rae Jepsen took the stage at 7:15 PM. She was good. Definitely a nice choice for an opening act since she appeals to the same fan base. I thought her treble mix was way too high, but I'm no audio engineer.
Her set list was: Sweetie, Tiny Little Bows, Good Time, Tonight I'm Getting Over You, This Kiss,Your Heart is a Muscle, Hurt So Good, and the ever-popular Call Me Maybe.
I managed to get the last bit of Call Me Maybe recorded: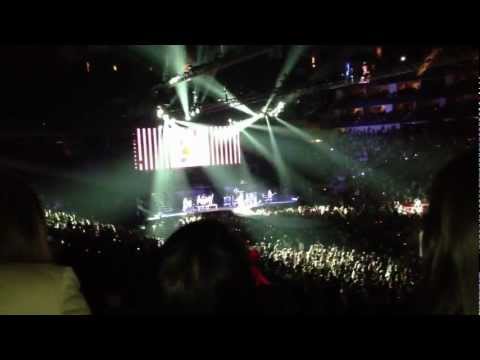 Following Carly's act, there was a 35 minute break as they prepared for Justin's part. I took that time to go and tackle the merchandise line. I left Don and the kids in their seats in case I was still there when the next show started. There was a timer which was very helpful and much appreciated.
There was a ton of merchandise to choose from, as you can imagine. There were roaming vendors that were selling programs ($25), lanyards, and light up toys. If that's all you wanted – it kept you out of the line which was a nice plus!
There were 8 check out stations at the booth that I chose and I still stood for 35 minutes. Houston loves them some Bieber shirts – he made a bloody fortune.
As for us, I bought Piper a shirt ($35), a shirt for myself ($35), a lanyard for Avery and a poster for his BFF that is a huge fan and my total was $95. Not a cheap venture.
All 19,300 seats in the Toyota Center were sold out for this concert. It is a complete miracle that the entire city of Houston did not hear the roar or squeals, rather, when Justin Bieber took the stage. It was like nothing I have ever heard before. The kid has some fans … and they adore him!
Justin enters the arena in the huge wings that are pictured at the top of this post and jumpstarts the concert with All Around the World. The stage is multi-level and the lights are everywhere. It's a cool setup and allows him lots of versatility.
The setlist went like this:  All Around the World; Take You; Catching Feelings: Medley: One Time/Eenie Meenie/Somebody to Love; Love Me Like You Do; She Don't Like the Lights; Die in Your Arms; Beautiful (with Carly Rae Jepsen); Out of Town Girl; Be Alright; Fall; Never Say Never; Beauty and a Beat; One Less Lonely Girl; As Long as You Love Me; Believe. Encore: Boyfriend and Baby. 
Being such a huge fan of the Never Say Never and My World albums, I loved that he included the medley: One Time/Eenie Meenie/Somebody to Love. Eenie Meenie is my favorite Justin Bieber song. Here's a little clip: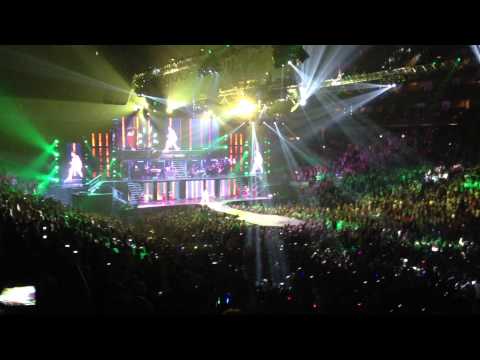 Here's one undeniable fact and I don't care if you like Justin Bieber or not, the boy can dance. Not only that … he has surrounded himself with others that can dance. And choreographers that are beyond brilliant. These dancers are complete artists. They performed to the entire arena. I'm not talking about their placement on the stages or where they were physically – I'm meaning that their energy hit me in my seat … 1/4 mile from the stage (give or take a few feet). They were so entertaining!
You can see the dancers in some of the video that I took, especially if you focus on the large upper monitor. (In person, it was really easy to see them from where we sat.) But, I wanted you to get the idea of how great they are, so I found this clip. You MUST watch it.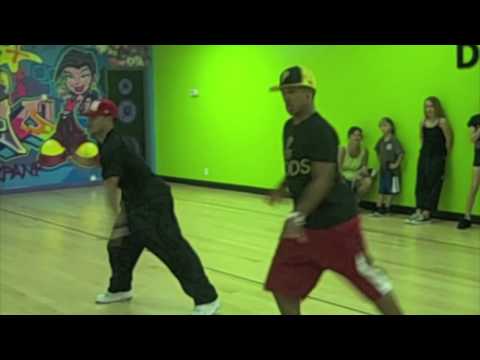 Overall, I thought the show was worth every penny! Truthfully. I'd also say that it was one of the best concert tours I've seen. Don thought that Justin was too grateful to the crowd – he did a lot of thanking everyone for coming. Don thought that was too much; I thought it was sincere. The mix was good and Justin sounds great live! No real obvious moments of lip synching and a good blend of old/new songs.
Oh, and what did the girls think?
… they loved it. (Avery, the closet Bieber fan, loved it too! Sang along with every single song!!!)
Piper has gotten over the fact that she wasn't the One Less Lonely Girl and is pretty sure it's only because she's too young. "He'll come around when I'm older."
It was a great night, and again – worth every red cent. I'd do it again in a heartbeat. Especially when I see smiles like the one in the picture just above!
For a final treat, I leave you with the entire encore. Thanks iPhone 5 for an extended battery life
This is Boyfriend and Baby!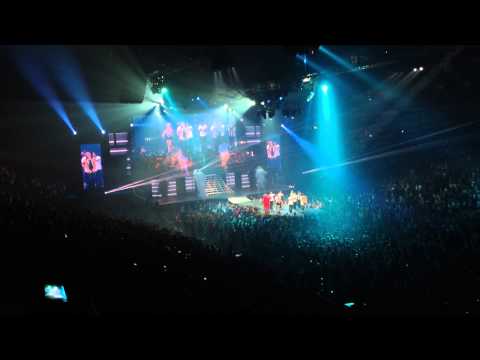 read more